Announcing the 63rd Annual Pro Amateur Golf Championship and Dinner on the Bluff - June 25–26, 2023
Hosted by the Founders' Board of Ann & Robert H. Lurie Children's Hospital of Chicago
Presented by Wintrust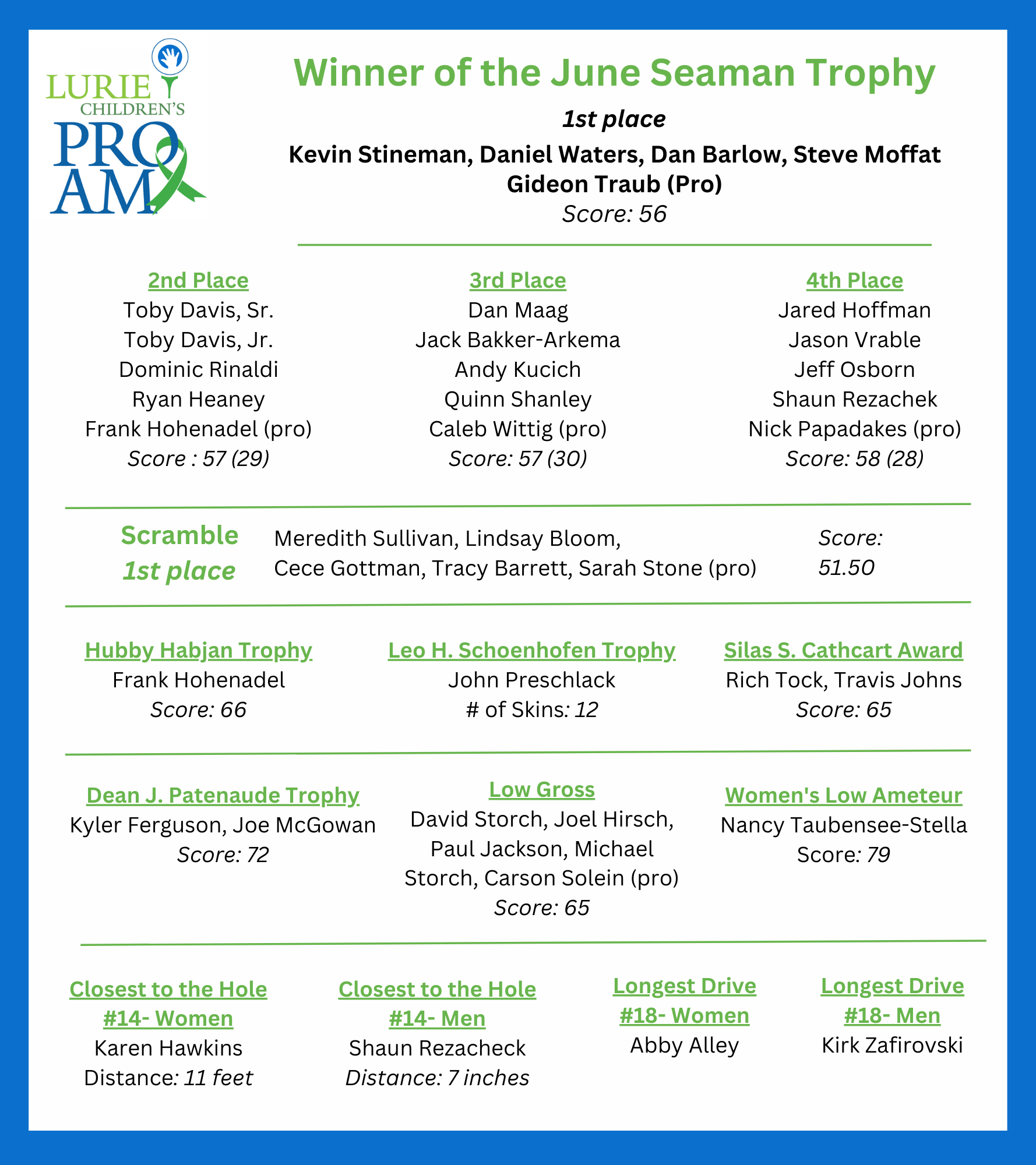 Pro Am Tee Time Assignments
Golf professional assignments and tee times are subject to change. Any changes will be updated on the document throughout the weekend.
Dinner on the Bluff
Sunday, June 25, 2023
Shoreacres
1601 Shore Acres Road
Lake Bluff, IL 60044
Pro Amateur Golf Championship
Monday, June 26, 2023
Onwentsia Club
300 Green Bay Rd,
Lake Forest, IL 60045
The Founders' Board is hosting the 63rd annual Pro Amateur Golf Championship on June 26, 2023. The Pro Am is the most successful annual fundraising event in the Hospital's history, with cumulative proceeds totaling more than $32 million.

Golf and dinner spots are now sold out. To join the waitlist, please email Taylor Gibbons at tgibbons@luriechildrens.org.
For more information, please contact Alison Tibbits at atibbits@luriechildrens.org
Donate
Dinner on the Bluff Live Auction Items
From iconic golf courses in California, to an unforgettable experience at the Masters, to a golfer's paradise in New Zealand — you will not want to miss the chance to check one of these off your bucket list at this year's Dinner on the Bluff on June 25th, 2023!
Impact
This year's event will support the Founders' Board three-year, $5.5 million commitment to the Patrick M. Magoon Institute for Healthy Communities. The Magoon Institute goes beyond the walls of the hospital to advance health equity for youth and families in the communities they call home.
Identified as the number one issue facing kids and families in Chicago, this summer's program will spotlight the mental health crisis facing youth and how Lurie Children's is addressing the dramatic need for treatment access and improved quality and responsiveness in communities experiencing the greatest health disparities.
With widespread exposure to trauma like gun violence, food and housing insecurity and physical and mental abuse, children and youth living in underserved communities experience a disproportionate share of mental health issues. Lurie Children's takes a public health approach to mental health care. Through the Magoon Institute, we help build support:
In the Community: A new Clinic and Community Hub facility in Austin will bring physical and behavioral health services directly to youth.
In Schools: We train teachers and administrators in Chicago. Public Schools to create trauma- informed environments to protect and promote youth mental health.
Through Peer Connections: In partnership with Communities United, Lurie Children's engages young people of color in conducting research, building alliances and leading strategies to resolve unaddressed trauma and to create healing- centered communities.
Donate Now
Sponsorship Partners
If you are interested in learning more about sponsoring this year's Pro Am, please view our Sponsorship Brochure and partner benefits here or contact Liz Farris at efarris@luriechildrens.org.
Benefits
Presenting
$100,000
Lead
$50,000
Eagle
$35,000
Birdie
$25,000
Par
$20,000
Tee-off
$10,000
Designation & Recognition
In All Collateral As:
Presenting Sponsor of the Lurie Children's Pro Amateur Golf Championship
Co-Host of the Youth Golf Clinic
Co-Host of the Dinner on the Bluff
Co-Host of the 19th Hole Awards Party
Hole Sponsor
Course Sponsor
Playing Spots in the Pro Am
Monday, June 26
8
8
4
4
4
2
Tickets to the Dinner on the Bluff
Sunday, June 25
16
16
8
8
8
4
Logo/Name Placement
Invitation, Program Boom, Event Signage & Website
Corporate Champions Membership
See Benefits Here
Opportunity to Volunteer at the

First Tee

Youth Golf Clinic
Sunday, June 25
Digital Recognition
Email Communications, Social Media
Supporters
Thank you to the following corporations, organizations and individuals for helping to support the 2023 Lurie Children's Pro Amateur Golf Championship.
The Goodwillie Family/
John O'Donnell/
The Tournament
On Monday, June 26th, amateur foursomes will be paired with golf professionals from prestigious private country clubs across the country for the exciting Golf Championship. Groups of five golfers (four amateurs and one professional) will tee off at Onwentsia Club in either a morning or an afternoon round and will have the opportunity to participate in either the Best Ball or Scramble format.
History
The Pro Am has a notable history dating back to 1960 when Sissy Wheeler first presented the idea of a pro-amateur golf fundraiser to her fellow members of the hospital's Founders' Board. Little did Mrs. Wheeler know that her idea would inspire the support and involvement of thousands and create a tradition of giving that continues to thrive today.